Roof repairs Limerick City and County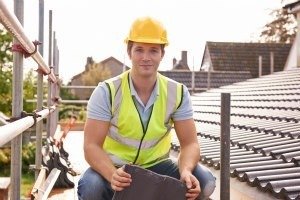 Need to get some roof repairs done in Limerick?  Well we can help you as we specialise in installing and repairing all slate and tiles on roofs in and around City area.  If you'd like a Free roof repair quote, give us a call and we'll take care of you.
With over 15 years' experience in the industry, Limerick City Roofing is your one stop shop for all roofing services in Limerick.  We also offer quality services in roof repairs and roof installations as well as the repair and maintenance of the different types of roofing such as slate tile and felt roofs among others.
We provide a full range of roofing repairs services throughout Limerick City and County covering surrounding area such as Adare, Kilmallock, Rathkeale, Newcastlewest, Croom, Castleconnell and beyond.  Give us a call no matter where you are in the county or City.
Roof Repair Costs Limerick
Roof repairs is a broad category of many repairs that can be carried out on your roof.  For example simple damages such as a misplaced tile or slate can be repaired for on average at around €60 depending on the roofing company you hire and where you're and the tile are located on the roof.
Damage to your ridge tiles can cost you a little more as they need to be cut out and some damage may be caused to slate and tile close to the ridges making it more complicated.  This can cost you anywhere between €200-600 euro depending on the amount of tile or slate that need to be replaced.
Roof Repair Estimates without know the specific damage and extent of which usually range between €200 and €1200 with an average cost of €600.
Roof Repairs are hard to quantify unless you know the full and exact extent of the damage, here are some of the other costs associated with roof repairs such as:
Fascia Soffit & Gutter Costs
Gutters & Downpipes Costs
Flat Roof Repairs Costs
Misplaced Slate or Tile Repairs Costs
When a roofing company is evaluating the cost of an estimate to carry out roof repairs, there are a number of factors that are taken into consideration, these will affect the cost or estimate as you will see here:
Access to Roof – some roofs depending on where they are located will make it difficult or very easy to access.  This may affect the price for example, access to a third story roof in a city or urban area opposed to a one storey flat roof building will vary on the ability of the company to get access for labour and materials.
The Type of Roof – Depending on your type of roof whether its a flat roof or pitched apex roof will have an impact due to the type of work and materials used to get the work done.
Extent of Damage – Depending on how long your roof has been leaking or the amount of materials required to replace it back to its original state will impact the price.
Water Damage – Extensive water leaks can cause damage to your building requiring a lot materials needing to be replaced increasing the cost of returning your roof back to its original state.  Water leaking usually results in black and brown stains on your roof where a leak has been persisting for a while. Sustained leaks can affect the timber structure after rot has set in.
Primary Causes of Leaking Roofs
Older Roofs – Older roofs between 25 to 50 years old can have a natural decline in its ability to keep a building dry.  Natural deterioration in cement around the ridge tiles, cracked tiles and slate from sustained weather over the years, exposed timbers from rotting fascia and soffits especially where timber has been used in older houses.  It is worth getting your roof check every few years to pick up potential damage early.
Loose Ridge Tiles – As mentioned above, cracking mortar around ridge tiles allowing slate and tiles to leave in water on to the ceilings.
Blocked Ventilation – older vents can get blocked up and restricting air flow in your roof.
Loose Tiles & Slates – Often after high winds some of your tiles can get loose and shift.  This can leave in water causing further damage.
Damaged Flashing – The flashing is the lead around dormer windows, skylights and chimneys, this can get damage leaving in water causing damage.
High Winds and Storm Weather –  As already mentioned heavy rain and high winds can shift and cause damage to your roof causing leakage, without repair, more extensive damage can be caused.
We provide all the above services and can guide you in giving you a free evaluation and quote to give you some options before you proceed with your work.  All our work comes with a watertight guarantee and carried out by experienced roofers that stand behind our work and will make sure what has been completed.
Get Your Free Roof Evaluation and Quote Call Now