Slate & Tile Repairs Limerick

Need to get your slates or tiles repaired or replaced in Limerick?  Well we can help you as we specialist in installing and repairing all slate and tiles on roofs in and around City area.  If you'd like a Free slate or tile repair quote, give us a call and we'll take care of you.
With over 15 years' experience in the industry, Limerick Roofing is your one stop shop for all roofing services in City.  We also offer quality services in roof installation as well as the repair and maintenance of the different types of roofing such as slate tile and felt roofs among others.
Damaged Slates and Tiles
With the ever increasing and unpredictable weather, often tiles and slate get misplaced during windy and storm conditions.  To prevent further damage to your roof it it's always advised that you get this taken care of immediately.
Slate and Tile Repair Costs Limerick
The cost of getting slates and tiles replaced can vary depending on the condition of the damage, if it's just something simple like misplaced slates and tiles with relatively no real damage, then the cost is relatively low at approximately €60.  Some prices can quote you as low as €50 and as high as €80.
​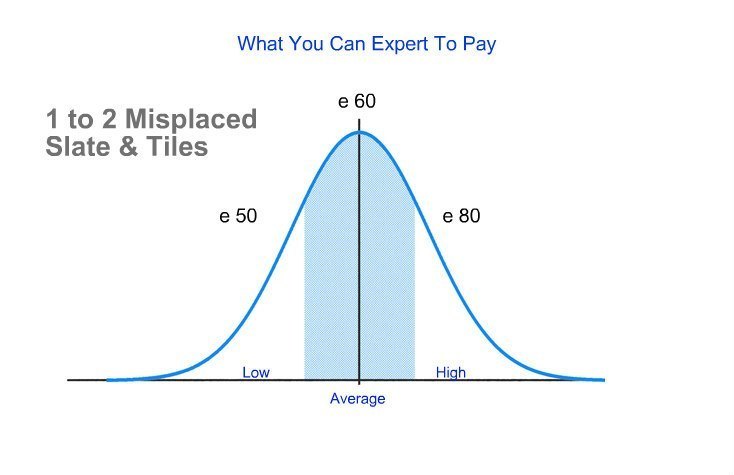 graph showing average price of slates and tile repair in Limerick
For roofs with more extensive damage, it will cost you more due to the amount of materials and labour involved.  In this case it is best to get a free quote from us to assess the damage and so you know what you are dealing with before you proceed.  Contact us for a free quote now.
​Free In-home Quote & Evaluation
​Give us a call now to get you setup with our free in-home quote and roof evaluation, simply give us a call and well get out to you very shortly…